Archive for the You & Eye Tag
Here is the complete Halloween look called "All that Glitters". I did edit out a lot of pictures because I actually shot about 100 pictures during the placement of the makeup and doing that many pictures in one post is overkill.
Also I didn't get any theatre makeup, so all of the products used are normal makeup, so no special purchase. You don't have to get the same brand makeup if you want to recreate the look, just make sure the eye shadows blend well.
Here is the final look (I made my hair blue in Photoshop when I added the watermark because on Halloween you guys wear costumes and I think this goes well with a green or blue wig.)

If you're planning on wearing a costume, I would put the top half on before starting the makeup, because glitter in your clothes itches a LOT! Also I did my hair in a tight bun because I wanted the hair to not overpower the makeup and I have naturally very curly hair so that wouldn't look great. If you're wearing a wig pull your hair back already and draw some small markers on your face for you to know where it starts and finish the hairline makeup when you've added the wig later or wear the wig while putting on your makeup.


Products used:

Skin
Elizabeth Arden, Eight Hour Cream
Clinique, 7 Day Scrub
Stri-Vectin-SD, Eyecream
Clinique, Turnaround concentrate
Neutrogena, PureGlow – Shimmering Moisturizing Mousse
Perfect canvas

Smashbox, Photofinish – Clear Foundation Primer
Urban Decay, Eye Shadow Primer Potion
YSL, Teint Parfait – Complexion Enhancer 03 Champagne
Too Faced, Magic Wand Foundation – New York Light no. 2
Smashbox, Camera Ready Concealer – 3.0
Smashbox, Concealer brush – no. 4
YSL, Touche Eclat – no. 2
Make Up For Ever, Super Matte Loose Powder – no. 12
Sephora Professionnel, Mineral Powder Brush – no. 45
Smashbox, Contouring Bronzer/Blush Duo – Contour/Pop
Benefit, Highbrow
Miss Helen, Loose Glitter Powder – no. 02
Gerard Brinard, Eurospecial Brush
Face and Eyeshadows
Sephora Brand, Paradise Island Palette (using the silver and gold cream eyeshadow)
H&M, Eye pen – Champagna
Benefit, Valley of the Stars – White shadow
Smashbox Professionnel, All Over Shadow Brush – no. 21
GOSH Effect Powder, Meringue
Smashbox, Shadow brush – no. 26
Sephora, Colorful in strass – no. 010
Urban Decay, Deluxe Shadow Box – Scratch (light pink champagne – Item # 36620)
Urban Decay, Face Case: Side Show – Grifter (sheer lavender w/ lots of silver microglitter – Item # 36340)
Urban Decay, Face Case: Rockstar – Asphyxia (lavender w/ blue shift – Item # 31000)
Urban Decay, Face Case: Rockstar – Hotpants (medium pink – Item # 36300)
Barry M, Dazzle Dust – Cherry Red no. 84
The Body Shop, Shanted Brush
Bourjois, Liner clubbing – Violet laser
Urban Decay, Face Case: Nymph -> Glam – Stalker (intense iridescent lilac w/ silver glitter – Item # 34600)
Urban Decay, Deluxe Shadow Box – Ransom (vibrant purple – Item # 36650)
Urban Decay, Urban Survival Kit – Goddess (midnight blue w/ lots of electric blue microglitter Item # 36370)
The Body Shop – Smudger (actually a huge applicator)
Urban Decay, Deluxe Shadow Box – Peace (shimmering turquoise – Item # 36570)
Bourjois, Ombre a paupieres – 04 Noir Precieux
Smashbox, Eye Shadow Trio – Smokey Eyes (using the dark purple)
Urban Decay, Mildew (deep green – Item # 31300)
Urban Decay, Deluxe Shadow Box – Honey (glistening gold – Item # 36540)
Smashbox, Crease Brush – no. 10
GOSH, Effect Powder – Apple jam
GOSH, Effect Powder – Blaze
Lips
Bourjois, Regard Effect Metallise – Blue clinquant
GOSH, Effect Powder – Azure
Benefit, Her Glossiness – Who are you wearing
Glitter
Evian Water Spay
Sephora Artist, Glitter – 747 (dark purple)
You & Eye, Glitter – Purple Star
You & Eye, Glitter – Pine Green
You & Eye, Glitter – Royal Blue
You & Eye, Glitter – Fancy Pink
Sephora Artist, Glitter – silver
Sephora Artist, Glitter – 039 (white greenish)
Lashes
Unknown brand, Blue Mascara (waterproof)
Bourjois – Glossy wet look mascara top coat
Quite a list huh!
Preparation
For a face filled with glitter, you need a well moisturised and clean skin. So I started with a good scrub using the Clinique 7 day scrub. On my eyes I used something a little stronger then usual (Stri Vectin- SD) to give my skin a little bit of a hug before abusing the living daylights out of it
. On my lips I placed some Eight Hour Cream to moisture my lips. My face was twice moisturized, first with some Turnaround concentrate and then used Shimmering Moisturizing Mousse which has gold glimmers in it placing the base of glimmer, which will be followed by a lot more glimmer and glitter.
Perfect Canvas
Before adding layers of makeup, you need a great primer, and my foundation primer for the day was Photofinish. My eyes got a layer of Primer Potion and the base for the look was set.
As I said before there will be more glimmer added to the skin layer by layer, the layer that I placed at this point was Teint Parfait in Champagne, this complexion enhancer also has gold glimmer in it and makes the skin look even more perfect once the foundation is placed over it. I used Too Faced, Magic Wand Foundation because it's the lightest foundation I own and the primary inspiration was a mermaid type look. Under the sea there is no sun, so I wanted to look as light as I could without looking pale or scary light. I used the brush that's attached to the foundation for placement and blending. I concealed under my eyes with Camera Ready Concealer, placing it with the Concealer brush – no. 4, using what was left on the brush under my nose to hide any redness that could be there. As a highlighter I used Touche Eclat in a triangle starting with the downward point halfway down my nose and went up and out between my eyebrows and then went up a little more. Blend this really well. Under my eyes I also placed a triangle of highlight, blending out with my fingers. Under my eyebrows I placed some Highbrow under my eyebrows highlighting the area.
(Touche Eclat placed within the black lines)

I set the makeup I've already put on my face with some Super Matte Loose Powder using the Mineral Powder Brush. Now I did something you may wonder about, but I'll explain why I did this. I used contouring, not to create a more bronzed look but after you've placed all the makeup on your face without contouring you'll look flat. Also this places a cheat sheet for later when doing the cheekbones in blue. I contoured all the face near and into the hairline (pretty dark). I also contoured under my cheekbones and under my jawline.
(Contour placed within the pink lines)

I patted some of the blush from the same palette with my fing
ers on the apples of my cheeks to give some colour here before the glitter flattens the face. Over my forehead and over my cheekbones I placed some Loose Glitter Powder using a big flat brush. I also went over the top of my nose.
(Glimmer added within the blue lines)

I took up the Paradise Island Palette to use the cream shadow in silver all over my eyelid, giving it a sticky base for the shadow I'll place over it later. I also used the gold cream eyeshadow as a base on the rest of my eye. I used a H&M Champagne pencil (glittery gold) under my eyes because this is a place where glitter can creep into fine lines and irritate skin and make the lines look like deep wrinkles. So I'm using this instead of glitter here later.
I took up the Valley of the Stars kit and used the white shimmery eyeshadow over the silver cream eyeshadow. I used the big All Over Shadow brush to feather out the lines while placing the shadow. I also placed some of this colour on the inner corner of my eye. Another thing I did using this brush and eyeshadow is make the first line of shadow to my hairline.
Taking op the Meringue I went over the rest of my eye keeping a small triangle under the arch without colour. I also built up the line I placed with the white and placed this colour above it, blending into the white and blending up. I used the no. 26 Shadow brush for this.

I put some Colorful in strass (no. 010) in the arch of my eyebrow and placed a thick line above the Meringue blending it in at the bottom and blending it out at the top. This colour is a champagne like colour with some glimmer in it. My eye is now coloured in and I need to work up at the forehead, making it look further back then it is. I want to make it look like my hairline is further back by placing green glimmer and glitter in the fuzzy curly hair at the hairline. But I'm not there yet, I need to patiently work the gradient up.
The next colour I'm using is Scratch which is a pinkish champagne colour. I love this colour and now you can see why I contoured around the hairline. Through the Scratch you can see a little of the underlying colour and I placed this up to my temples.

For all the colour blending on my forehead I used the no. 26 brush. The next colour is Grifter which I took above the brows. The colour Asphyxia was the colour on top of that and I also used it over the bridge of the nose down a little. Hotpants is a pink colour which I took in a point down my nose blending it with the Asphyxia. For the dark pinkish red on my nose I used  Cherry Red with a Shanted Brush to place the colour like a staple. I went into the bottom of my eyebrows and blended it out. Where it was placed on my nose I cleaned the brush and then went over the colour upward with the same brush to feather the colour into the Hotpants.

I took up a purple eyeliner and lined the underside of the pink on my nose, making the edges cleaner then the pink was.
Going back to the forehead gradient now with Stalker blending it down and up followed by Ransom which is a very vibrant purple. The colours from the Deluxe box are more pigmented and therefor are better to use as the popping colours.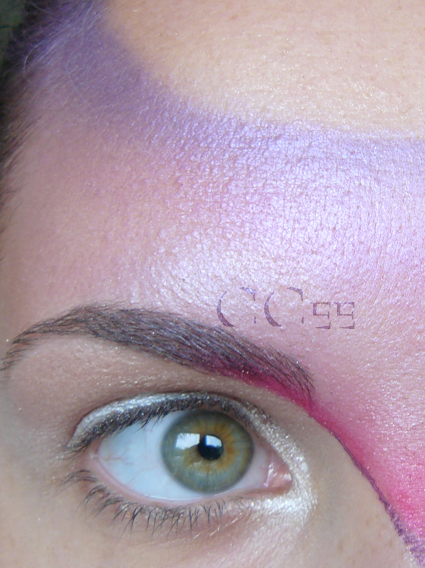 I took up the colour Goddess which is a very dark blue with glitter only to the outer edges of the gradient, I didn't place this at the bottom to make the face look smaller.
I stopped working upward for a minute and placed Peace into my hairline working down to my ears.

I took up a Smudger from The Body Shop but it's actually a HUGE applicator and placed some base colour Ombre a paupieres (04 Noir Precieux) on the leftover bare skin on my forehead. This colour looks very dark in the container, but I was very disappointed with the darkness on my skin. Thankfully I'll place some glitter over it later.

I deepened the Bourjois colour on my forehead a little with some dark purple from Smashbox. Then decided to not care anymore, no one will notice later, so I went on to make my ears green. I used Mildew for this (remember to really go into the folds) because it's a shiny green but has no glitter so no glitter can fall into the ears. Remember to blend the green into the Peace at the hairline and blend out downwards. As a highlight I used Honey, placing it with a fluffy Crease Brush on the edges to make the ear more 3D.

Because I wanted to see how far I could go later on with green and blue contouring I needed to see all the colour in my face, so I did my lips at this point. I'd moisturized with Eight Hour Cream when I started and blotted that off now. Because I don't have a blue lipstick I used a very creamy eyeliner in metallic blue over the lips. I needed it to look glossy and not dead, so I went over it with a soft pink gloss (Who are you wearing) and took a very very old brush to place some Blaze on my lips. You can create this effect by puckering your lips and tapping the powder into your gloss, not blending.

Next up I sculpted the face some more. I used the no 45 mineral brush for this, placing some Azure under my cheekbones and jawline, and went over it at the places where I wanted it darker with a green in Apple jam. Both these colours are loose pigments so they blend out really well. I also placed some extra mildew at the top hairline and used some Apple Jam there too, to take the look even further back.
At this point everything is done but the glitter.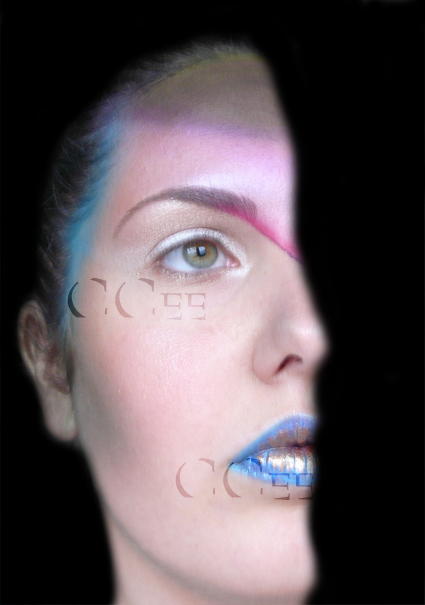 If you want the glitter to stay on through heavy clubbing, get a make up sealer to use over the glitter or use a glitter glue under the glitter. I only did this look for you guys so I used water to make it stick. This also works if you're doing normal things.
Place a piece of paper under the glitter jars, because you will spill from your finger (or brush if you prefer it, but I hate getting glitter out of brushes so I use my finger). All the spilled glitter you'll put in your hair at the end, so no glitter actually goes to waste.
I used an Evian water spray over my forehead and started by patting the dark purple glitter on the purple eyeshadow. I patted it in a way that the glitter fades out at the edges.

I have a lighter purple (Purple Star) glitter which I placed over the lighter purple shadow, blending it up into the dark purple and down a little for a softer edge. Next up was the green glitter (Pine Green) into the hairline and into the start of the hair.

I placed a blue glitter (Royal Blue) over the Peace colour and a pink glitter (Fancy Pink) over the lightest purple and pink, still blending the glitters with a patting motion.

On my eyes I placed a silver glitter that you can put on the eye area (make sure that the glitter you use can be used where you want to place it, also don't use glitter on or near your ears). I used a white greenish glitter (oyster coloured) under my eyes and on my cheekbones (no directly under the eyes). Make sure not to place extra glitter on your nose or jawline to prevent you from looking like you actually fell into a bowl of glitter. You can place glitter on your Cupid's bow if you wish to draw some attention here.

You probably have some glitter that is on the paper now, take that and work back from the hairline, making the glitter fade going backwards. You also probably have some glitter fallen into your eyelashes. Close your eye, and with the end of a brush (not the brush side) go back and forth over the lashes to make them fall out of the lashes before adding mascara.
I used a blue mascara with a glossy wet look mascara top coat on top of that to make it seem like the lashes are still wet.
Sideshot:

Endface (with photoshopped blue hair)

I hope you like this look and that the explanation is helpful.