Archive for the Biotherm Tag
I was challenged to this Faith Hill look from the video "Like we never loved at all", I loved doing this look because it it very different from what I normally do. Also she has a very different eye shape and I tried false lashes again, it's now 4 hours later and my eyes feel tired, but no burning so far…. so… I'm happy.
There aren't many pictures that show you the angles on this look and the video that was in the Challenge didn't work so I found these pictures online of her eyes and worked of these.

The eye I created was: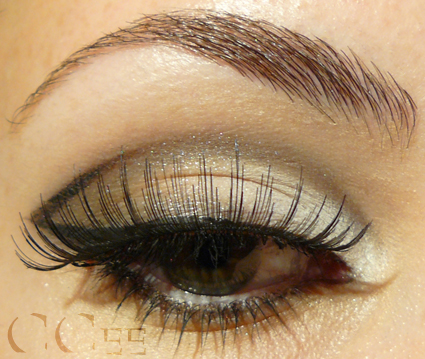 Okay, here is the tutorial for how I did this look.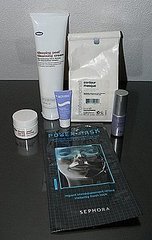 Products in this picture:
Bliss, Sleeping Peel Cleansing Cream
Dermalogica, Professional Contour Masque
Sephora, Power Mask – Hydrogel Eye Mask
Christian Dior, Capture XR 60/80 Restoring Serum
Bliss, Sleeping Peel – Age-minimizing eye gel
Preparation
It's Sunday, that means skin day in my house. I started by massaging my face with Sleeping Peel Cleansing Cream under the shower to clean thoroughly. After the shower I took the Dermalogica Contour Masque powder and mixed it with a little water and placed it on my face. I let that dry while lying down and when I wanted to take it off I made it wet and used a warm washcloth to take it all off. I then used the Capture Serum on my skin and placed the Hydrogel Mask on my eyes and let that do it's job while relaxing some more. When this was done I put some Sleeping Peel eye gel on my eyes and used the Biopur on my skin to finish my moisturizing for the day.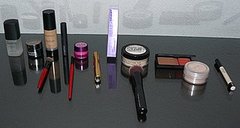 Products in this picture:
Smashbox, Photo Finish – Clear Foundation Primer
Sephora Brand, "Tricks of the Trade" Immediate Wrinkle Filler
Smashbox, High Definition Healthy FX Foundation in Light L3
Smashbox, Travel Foundation brush
Smashbox, Camera Ready Concealer in 3.0
Smashbox, Concealer Brush no. 4
Benefit, Erase Paste in Fair
Yves Saint Laurent, Touche Eclat – Radiant Touch no. 2
Urban Decay, Eyeshadow Primer Potion
Make Up For Ever, Super Matte Loose Powder in no. 12
Sephora Professionnel, Mineral Powder Brush no. 45
Smashbox, Bronzer/Blush Duo in Contour/Pop
Miss Helen, Highlight in Soft Pink
Benefit, HighBrow
Face
I started my face with a base because I need everything to look perfect and matte I decided on the Photo Finish Clear Foundation Primer. Also this will protect my skin because there will be a lot of makeup on my skin when I'm done.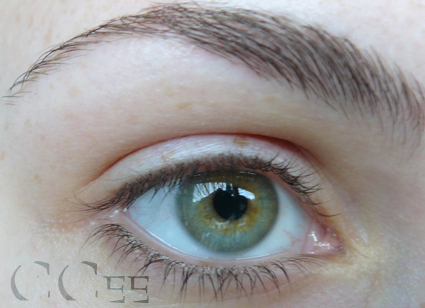 Next to make the wrinkles seem less (especially after loads of concealer and highlighter) I used an Immediate Wrinkle Filler. Remember when using a wrinkle filler that less is more, too much can make the makeup slip off.
The next step High Definition Healthy FX Foundation, if you need a perfect canvas, this foundation is perfect because it doesn't look like a mask of foundation on the skin. I used a Travel Foundation brush for the foundation, because this means I have more control over the product placement.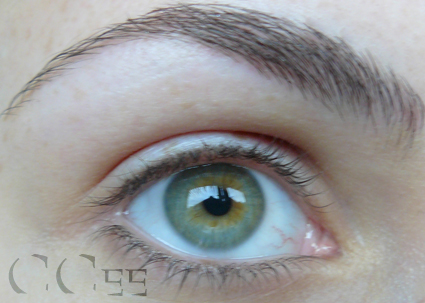 For this flawless face I used three concealers, I know it's a lot! I used Camera Ready Concealer out of the tube all the way under my eyes and blended this with the no. 4 brush to make the skin look perfect.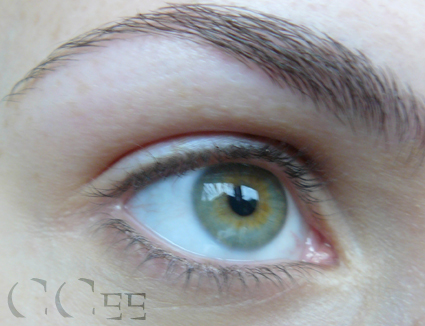 Over this I placed a little Erase Paste to lighten the area a little. This concealer is more pink which makes the skin look more radiant.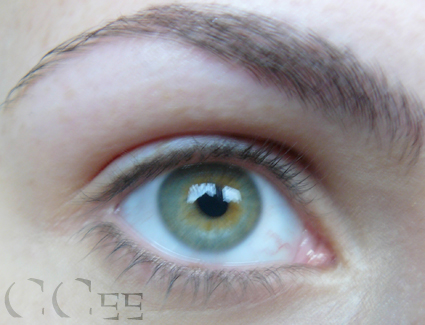 But to make it even more highlighted I placed some Touche Eclat in no. 2 in a V shape under my eyes. Here is a picture to show you the placement: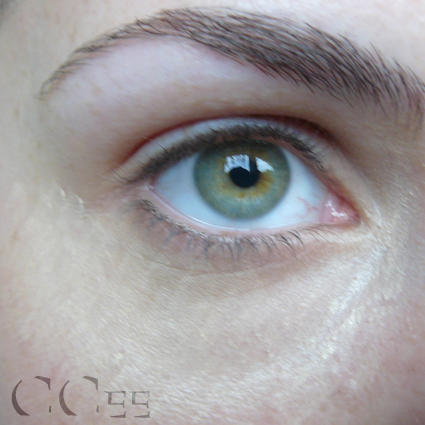 You really need to pat this in because you don't want to move the concealer under the highlighter. You can pat using the brush flat, or with your finger.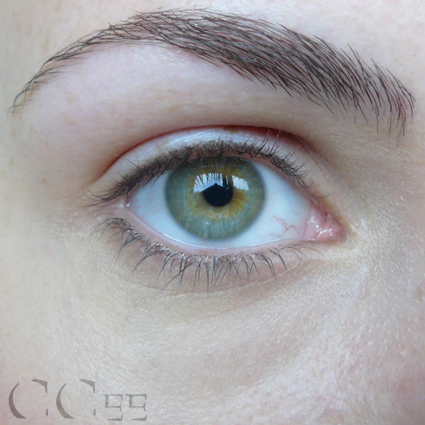 As a base on my eyelid I used my trusting Eyeshadow Primer Potion.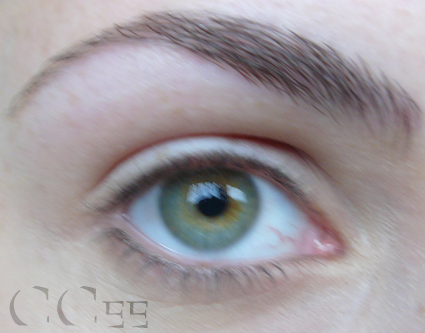 I set the foundation and concealer with a dusting of Super Matte Loose Powder (not over the eyelid). I used a Mineral Powder Brush for the powder placement because this gives more control.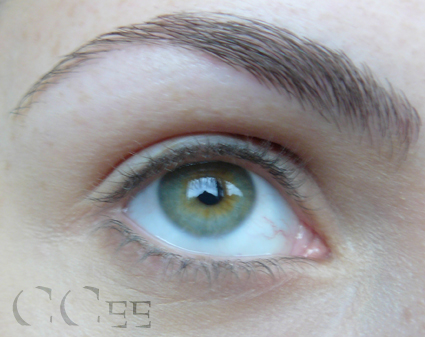 To contour my cheeks and jawline I used the Contour Bronzer by Smashbox with the no. 45 Mineral brush again. This means I have so much more control over placement. Remember to blend like mad. I like to make a 3 or E shape (depending on the side of the face I'm working on
) to contour perfectly on the temple, under the cheekbone and on my jawline. Do work the contouring into the hairline to make it look less like a mask and more like a natural shadow.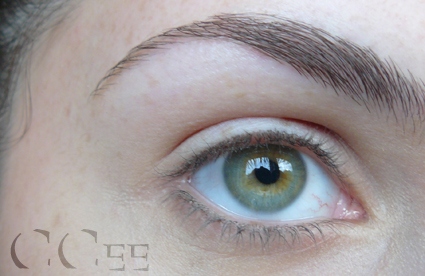 I used a shimmery highlighter in Soft Pink on the top of my cheekbone to catch the light and make them stand out more.
Under my brow bone I blended some HighBrow.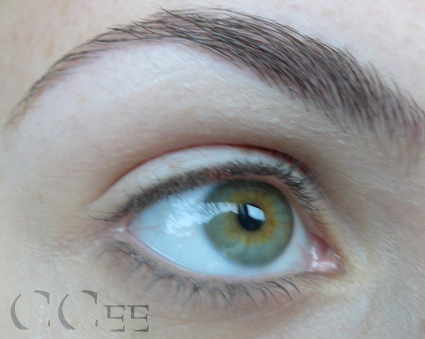 Now the face is perfect. I would so go out during the day with a face like this, even though it's very sculpted it still looks very beautiful and the fact that the eyes and lips are nude is very pretty on me. I have naturally dark eyelashes and brows, so I don't need much to be honest, I just love using much


Products in this picture:
Bourjois, Noir & Blanc pencil
Smashbox, Eye Shadow Trio – Panorama
Smashbox, Shadow Brush – no. 26
Smashbox, Eye Shadow Trio – Shutterspeed
Bourjois Paris, Ombre Stretch – Intense Black
Sephora Professional, Smudge Brush – no. 19
Smashbox, Definer brush – no. 15
Rimmel London, Colour Rush in 214 Black
The Body Shop – Slanted Brush
Stila, Smudge Pot – Black
Sephora Professional, Flat Liner brush – no. 16
Smashbox, Smudge Brush – no. 20
Urban Decay, Smoke Out Eye Pencil – Smoke Out
Make Up For Ever – False Eyelashes Ref 25014 – long full black lash (Item # 1039940 at Sephora)
Smashbox, JetSet – Midnight Black
Smashbox, Arced Liner Brush – no. 21
Christian Dior, Diorshow – 090 Black
Eyes
To make the inner corner stand out I used the white half of the Bourjois, Noir & Blanc pencil. I go to Bourjois for this because their p
encils are very soft, this means you don't have to press hard on your skin to create a white base and the colour is very easy to blend out. I used the Smashbox no. 20 Smudge brush for fading the colour at the edges on the lid (not on the top edge).

On the other hand, this blendability also means that you have to set it if you don't want it to move, I chose the white matte shadow from the Panorama trio. I placed this with the no. 26 Shadow brush and blended the colour to a fade. I then took the same brush (cleaned on a towel) to place the lightest colour from the Shutterspeed trio all over the rest of my eye as a colour. This is a matte skin tone which is perfect because the greys I'll use later will have a powder to blend with.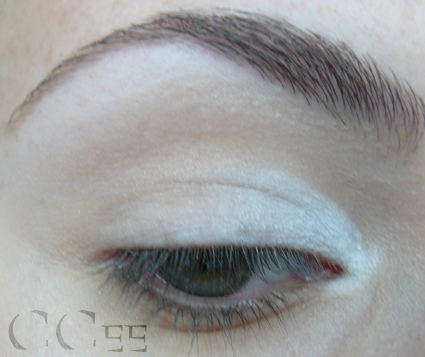 I then set the first lines of the crease above the crease with the Ombre Stretch in Intense Black, now it's great that they called this colour intense black, but it's not, it's a very dark grey. I love the colour and used it to place the first lines for this look, but the name is not the perfect name for this colour. I used the brush that came in the Ombre Stretch because it actually is a good brush for placing this kind of line. I placed the line a couple of millimeters above my own crease. I wanted the crease entirely above my own and that means placing the crease with open eyes looking straight into a mirror. I smudged the line on the top only using a Sephora no. 19 Smudge brush (this is a medium sized smudge brush, the Smashbox smudge brush no. 20 is a small smudge brush), The bottom of the crease line will be getting my attention later.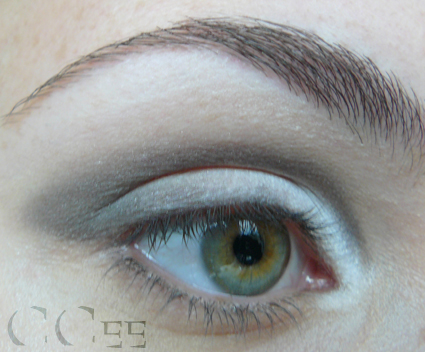 In the outer corner in a < and > shape I placed some of the grey out of the Shutterspeed trio with the no. 15 definer brush and faded this. The place where the grey slowly turns into white is after 1/3 on the outer corner. Halfway the white should be almost at it's whitest and after 2/3 it should be perfectly white.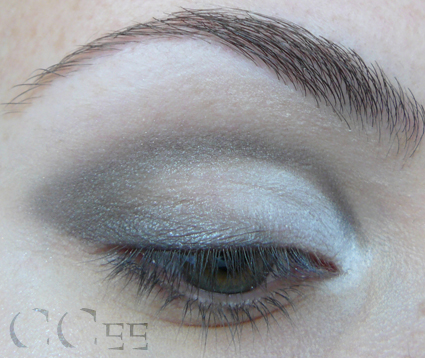 I used my loyal slanted brush to place Rimmel's black on the outer line, making the outer line and the outer half of the crease line darker. I also placed the black as close to the lower lash line as possible.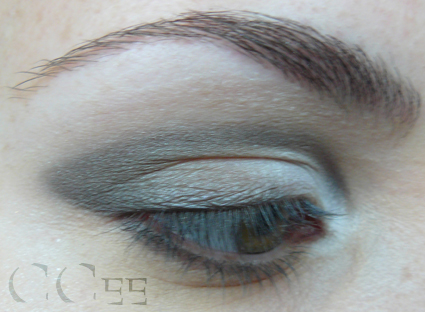 Taking up my Stila Smudge Pot in black is something I only so when I need a very smudged line that is matte. Also this line stays put better then the Smashbox cream liners and blends better then the JetSet. I took up the no. 16 flat liner brush to line my eyes and make the wings at the point of the black line I already drew. I went all the way up to the crease and went into the crease I had drawn. On the crease line I blended the line out using the no. 20 smudge brush by Smashbox (the small smudge brush).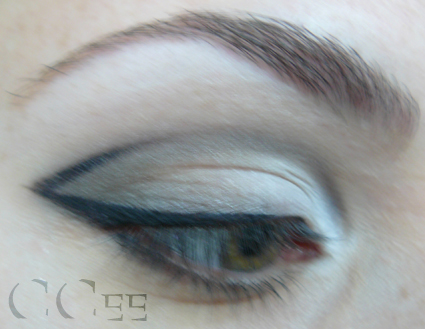 At this point I added the white to my waterline to see if the eye was looking wide enough. Faith's eyes are a lot more almond shaped then mine, so I'm trying to make my eyes look more that shape too. She has the eyeliner higher on her eyelid, but I didn't do this because of the different eye shapes.
I wasn't happy with the smudged line under my eyes and took up Smoke Out to line under my eyes again and I used the other end of the pencil to smudge the colour out some more.
Now I was ready for the false lashes, I haven't done this in ages and haven't done this much because my eyes usually turn red and teary very quickly and it itches and hurts sooo bad after an hour and after two I've usually taken them off already. I got these more expensive lashes from Make Up For Ever for this look because she really has false lashes on. If I wanted it more like Faith I should have cut the lashes a little shorter, but I thought of that after I placed the first set on my eyes, and I didn't want to cut at that point. I also placed the lashes a little above my lash line at the outer corners to make my eyes look more like Faith's.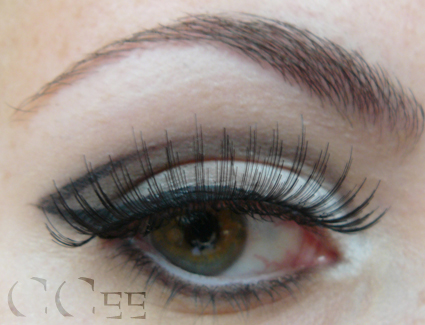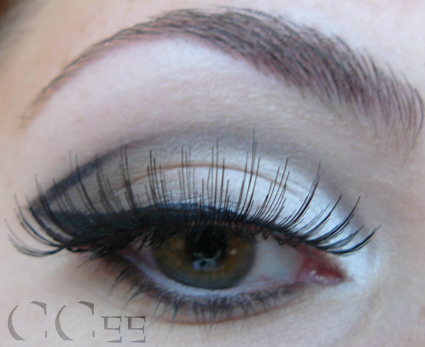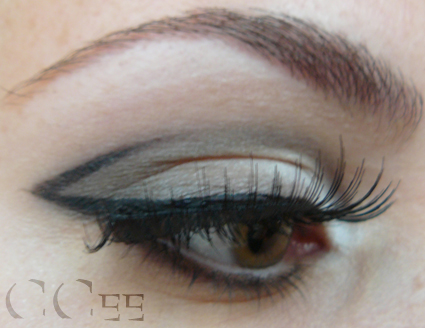 I used a little JetSet on the inner corner of the top waterline to make the false lashes blend with the eye a little better.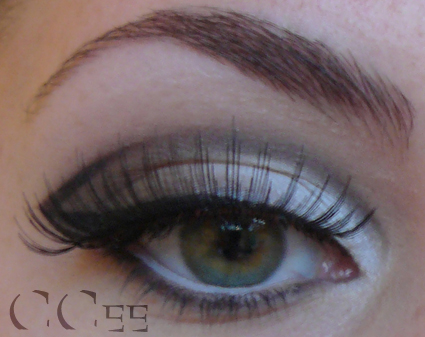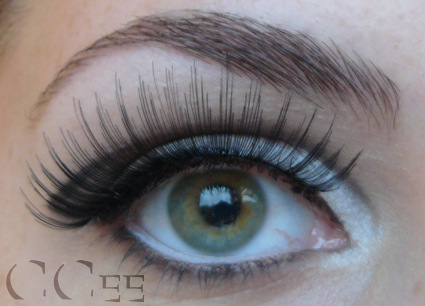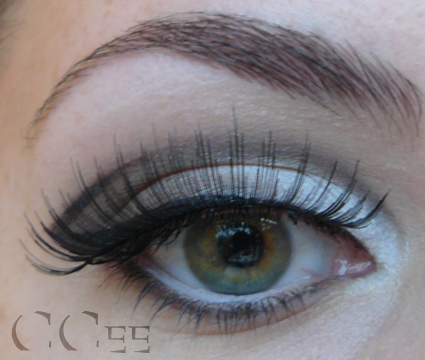 (Showing also the highlight on the cheekbone:)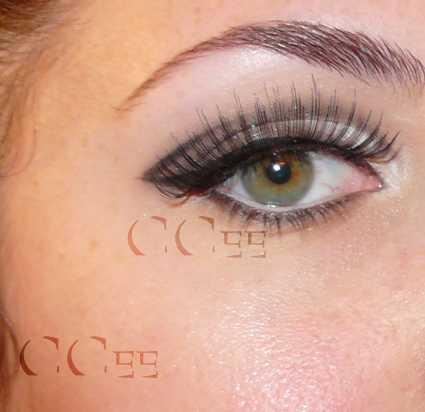 I was happy with the eye and only when looking at the picture again after I was done with taking the pictures of my own eye, did I see that her lower lashes where also false. I'm not doing that because I already have very long lower lashes, so I gave them a little coat of mascara at this point and took these pictures afterwards (using a flash to show a different lighting).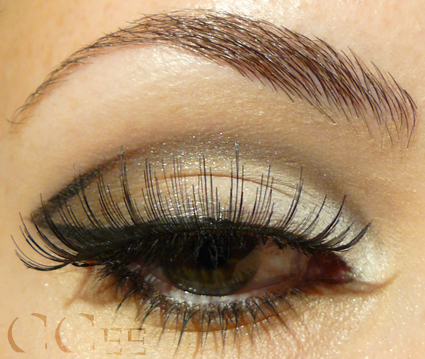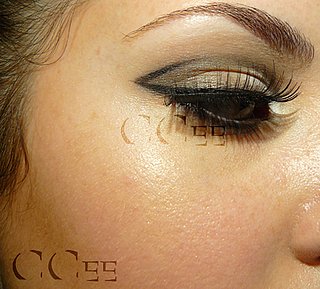 Sooo here is the look and the how to, I hope you guys enjoyed reading this and like the look!
I wish you a great Monday tomorrow.
___________________________________________________________________________________________________________________________________________
Edit:
Here are two close ups of the lashes in the box.